Once your PnP and BOM data are ready, you can send a Request for Quotation (RFQ) for purchasing and assembly of your PCB to any participating Electronics Manufacturing Services (EMS) provider. This is a quick and easy way to get your PCB into production, since Macaos Enterprise makes the necessary information available to your partners in a reliable and orderly manner.
Note: This feature is only available for Macaos Enterprise users in markets with participating EMS providers.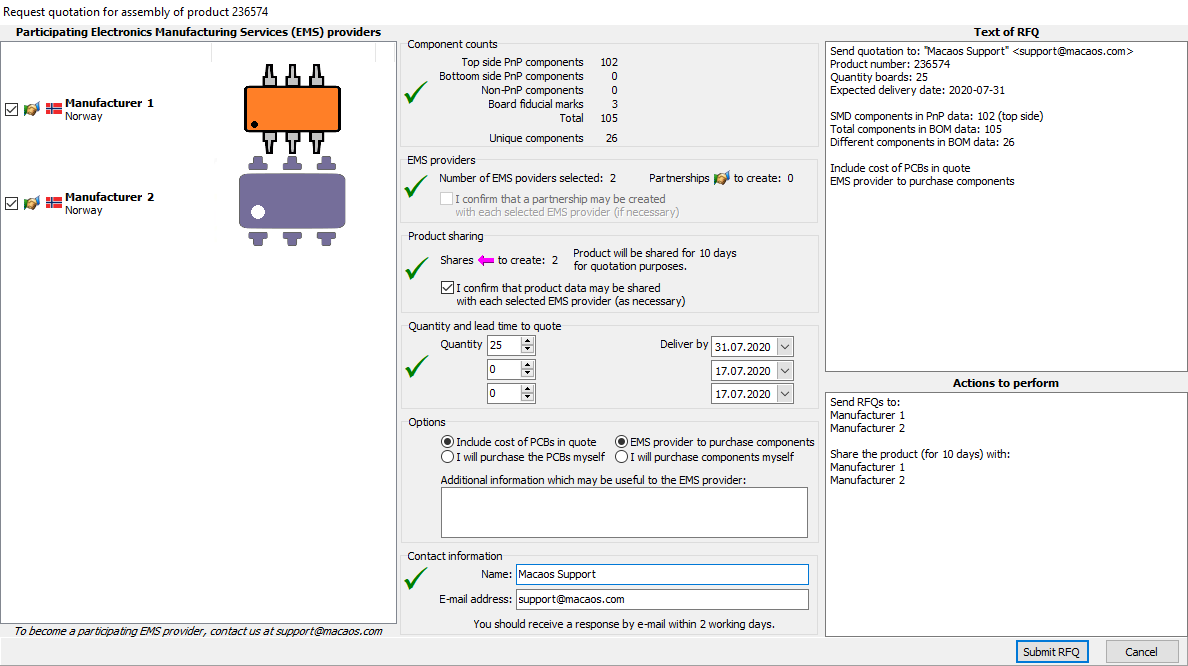 Generating an RFQ for assembly does 3 things:
If one does not already exist, a partnership is created between your company and each selected EMS provider.

The product must be shared with each selected EMS provider. If not already shared, then the product is shared with Quote visibility for 10 days.

A message is sent to each EMS provider informing them of your RFQ. The message is also visible in the EMS provider's Macaos Enterprise, together with your product data.
Icons in the EMS provider list indicate:
if you have already shared the product with the EMS provider

if the EMS provider is already your partner, but the product hasn't been shared with them

the country where the EMS provider is located
There are several bits of information that must be gathered before you can send an RFQ. Missing or inadequate information is flagged with a red X and an error message.
Once everything is ready, the message to the EMS providers is shown, as well as a list of actions (creating partnerships and shares, and sending RFQs) to perform. Click on the Submit RFQ button to perform these actions.
You may specify up to 3 different quantities and up to 3 different delivery dates for your quotations.
Normally, the EMS provider will purchase the boards and components for you. In the options section, you may choose to do some of your own purchasing.
Normally, EMS providers will respond by e-mail within two working days. If you choose to accept a quotation from one of the Macaos system EMS providers, you will need to contact them directly to place your order. You should also change the product share for that partner, giving them Manuf visibility and extending the lifetime of the share. See Product sharing for more information.
If a product is shared to an EMS provider with Quote visibility, then your partner will be able to view your PnP data and BOM list, but they will not be able to export that data from Macaos Enterprise.
Note: It is not possible to generate an RFQ for a product that a partner has shared with you.