Macaos has developed an intuitive, yet flexible, rapid PCB panelizer tool.
Assembly arrays
The Panelizer Module in Macaos Enterprise and Macaos Gallery allows you to quickly step up a PCB board to an array (panel) suitable for assembly. The panel may be generated automatically from a script or you may specify panel parameters and add features to the panel frame as desired. Downloadable scripts from EMS providers may be used or modified to meet your own needs.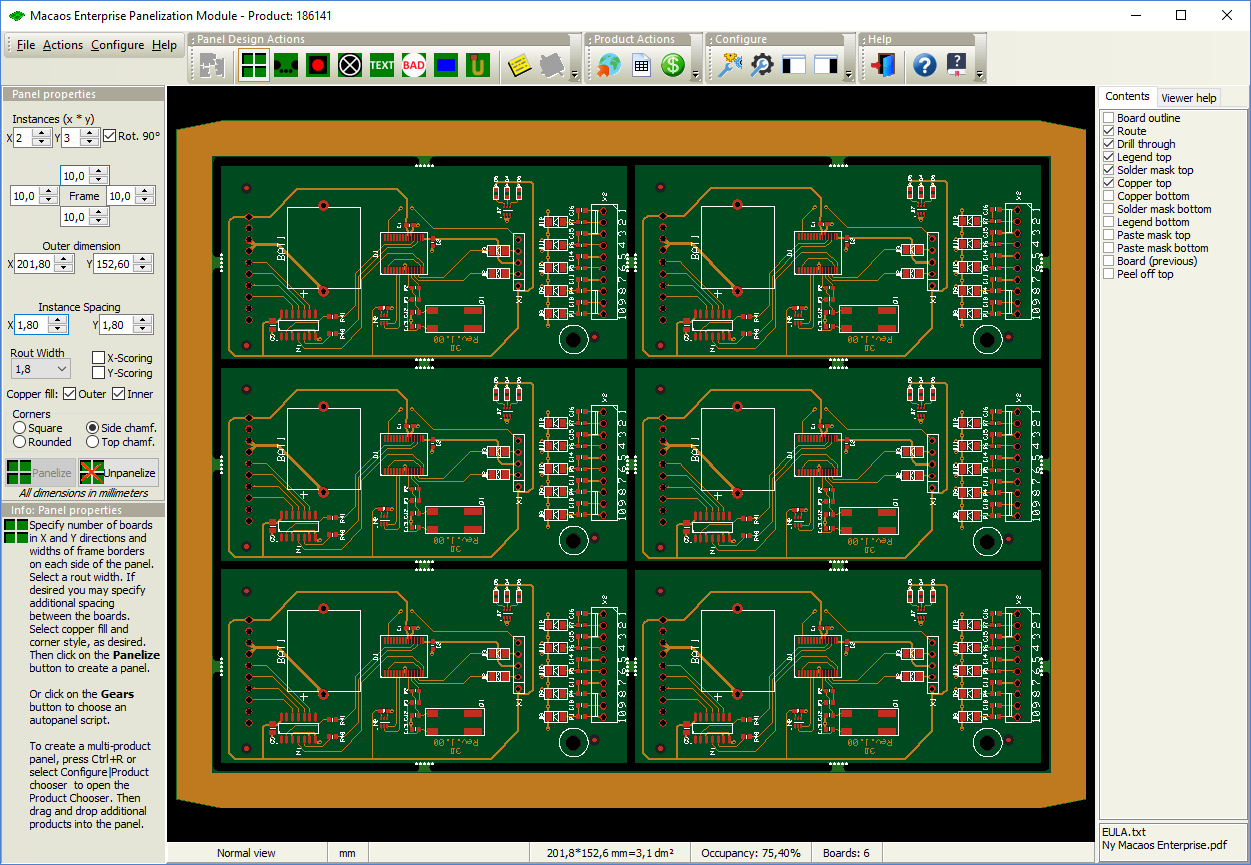 You can easily add features to the panel, such as:
Break-off tabs: corner tabs or edge tabs with or without mousebite holes
Fiducial marks: round, square or cross, placed relative to panel or board corners or centers
Tooling holes or slots, placed relative to panel corners or center
Break-off holes
Bad marks
Copper fill in frame and between boards
Text
Bar code, Code 128B or Datamatrix
Annotation field
Peel-off, glue or other assembly mask data
Registration control coupon
Impedance test coupon (IPC-2221B type Z)
Add any small board as a test coupon
Most of these features may be specified in a panel script, so that they are automatically added to any panel which you create using that script.
A WYSIWYG viewer shows your panel just as it will be interpreted by the manufacturer. A high-quality technical drawing of the panel in PDF format is automatically generated when the panel is saved.
Pick and place data (if included in the board product) is stepped together with the boards.
Multi-product panels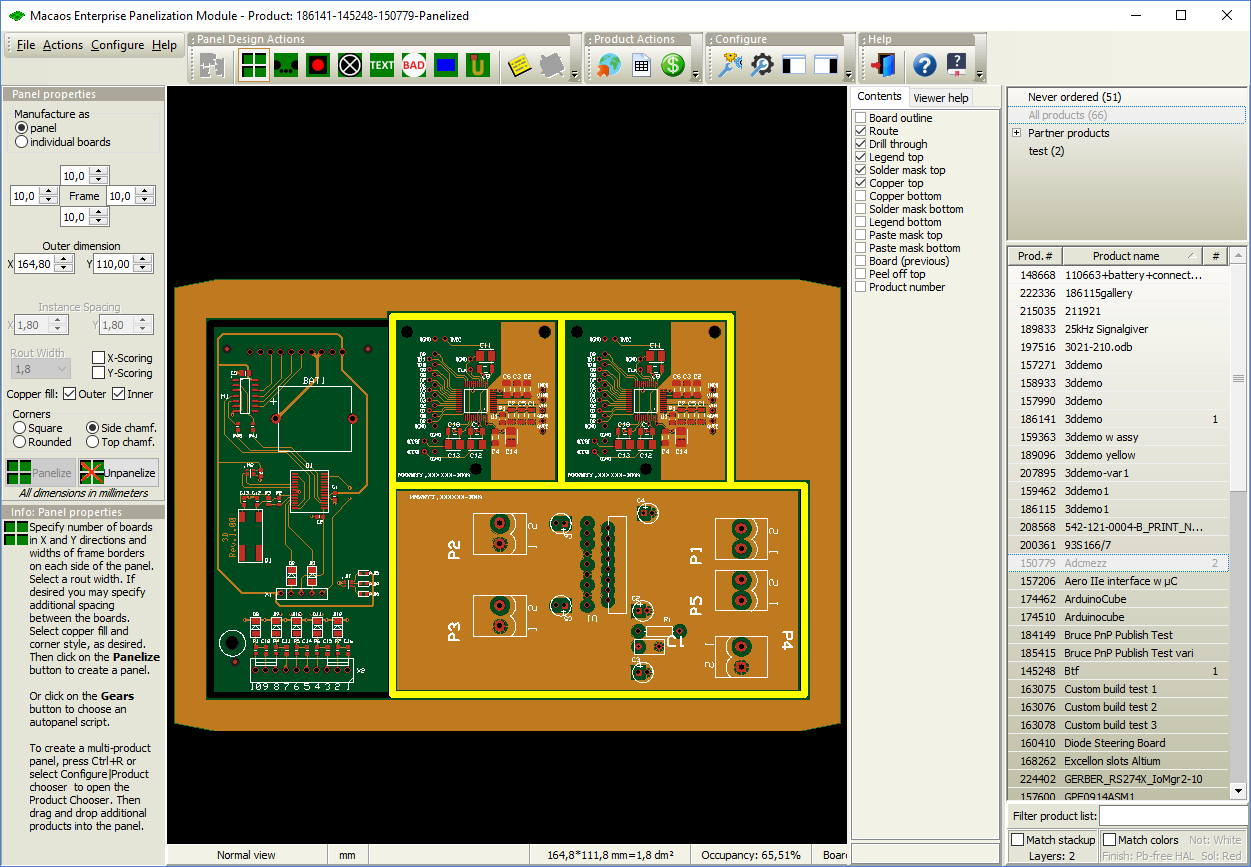 Panels that combine several different products are also supported. Start by selecting a single product in the product browser and open the panelization module.
Macaos Enterprise: Open the product chooser with the Configure|Product chooser command. The product chooser lists all products that are compatible (stackup, finish, mask colors) with the first product. You may then add products to the panel by dragging them into the panel.
A multi-product panel may be delivered either as a panel or as individual boards. If individual boards is selected then there will be no panel frame or break-off tabs.
Macaos Gallery: Use the File|Open command to add an additional product to the panel. Be sure that the product you open is consistent with the initial product (i.e. has the same number of layers, same stackup, same colors, etc.), since the panel module is not able to check these parameters for you. Select and drag the new product to the desired location. Press Ctrl while selecting to make a copy of a board.
Production panels (for PCB manufacturers)
Macaos RapidCam: After importing a single PCB product, the panel optimizer module fills a panel with boards, and then adds all appropriate tooling holes, targets and coupons to the panel frame, in just a couple of easy steps. Once the production panel is generated, machine files in Gerber, Excellon or Sieb&Meyer may be exported directly to the process line.
Macaos Fusion: Macaos Fusion links to the manufacturer's order database, giving a sophisiticated tool for production planning. Orders can be spread across production panels, maximizing process utilization and minimizing waste. The panel packing routine automatically fills a panel with diverse boards, usually achieving more than 85% area utilization.
More info