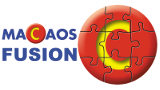 Macaos Fusion is a powerful production planning tool for PCB manufacturers. Macaos Fusion combines an intelligent work list functionality with our acclaimed panelization technology to quickly put together optimized production panels for small or large series production. Scrap and stock tracking make it possible to run small series quick-turn production without unnecesary overproduction.
Macaos Fusion generates machine-ready production files for photoplotter, LDI, drilling and routing machines. Features include inner-layer stretch, etch compensation, plated tool compensation, and intelligent routing.
Click here to order an evaluation version of Macaos Fusion.
Contact us at support@macaos.com for more information.